Turkey - modern and ancient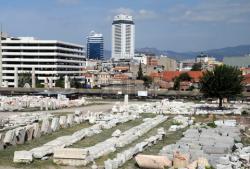 Turkey has long seems so close and clear to anyone who has ever made ​​a tour to this country. But seaside resorts - this is only part of a large country with an ancient history and culture.
If desired , in Turkey , you can not only relax , but also to touch the history of the country , learn a lot of new and interesting. Indeed, many Turkish cities are not only places for recreation , but also historical sites . Some of them having more than two millennia ago.
From some towns were only ruins , others still exist . About the ancient city in the world has arisen for five centuries BC, the remains resemble theater and unusual necropolis - tomb, located in the rock. Biblical saints - St. Paul and Nicholas Ugodnik in ancient times lived in this city. Sarcophagus with the relics of St. Nicholas is resting in a specially built church.
From the holy city of Hierapolis , who played once a very important role in disseminating early Christianity and where he was executed one of the twelve apostles , little has survived to the present day. These are the ruins of the temple of Apollo , the ancient necropolis , ruins of the Roman theater.
Remains of a huge theater, once designed for more than 20 thousand spectators, can be seen in the city of Belkis . Ruins of temples and theaters allow touch of ancient history, feel the atmosphere of bygone centuries.
About Kekova underwater are two ancient cities. These historical sites are only available to fans of diving and scuba divers are very attractive .
The country has a huge number of mosques (about 80,000 ) and palaces are beautiful architectural monuments, and where you can make excursions . Anyone can come to the mosque . It should only be kept in mind that in the hours of prayer her door open only to Muslims.
In the largest city of Turkey , Istanbul , is a large number of Christian churches and Muslim mosques , magnificent palaces of the sultans , museums. Istanbul was founded several centuries BC and was the capital of many empires over the centuries that followed each other . If you want to see the sights of Turkey , they are more often it is in Istanbul Bosphorus Bridge , the Blue Mosque , Topkapi Palace , Hagia Sophia - just do not count .
Istanbul was the capital of Turkey until 1923 , now is the capital city of Ankara . City also has an ancient history , which reminds Citadel , built in the VI-IX centuries. Doors Hadzhibayram oldest mosque , which is more than five centuries , is still open to believers.
Antalya, which is called the " Turkish Riviera" and " paradise on earth " - the most popular tourist resort. But it is also an ancient mythological city with a rich history . It was founded BC Greek king , then they owned the Romans , Byzantium . The city has many historical monuments.
Turkey attractive for lovers of active and passive recreation , and for people interested in history . Everyone will find what he seeks .