Kaieteur
Kaieteur waterfall is cons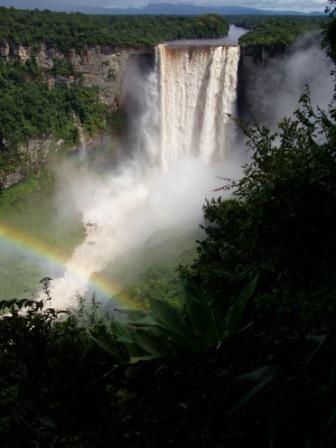 idered one of the most powerful and most spectacular waterfalls on the planet. Very rarely is a remarkable combination of a large volume of water and high altitude.
According to legend waterfall gets its name from an Indian chief named Kaya, who was famous for an act of self-sacrifice for the salvation of his people out of a canoe drifting down the river Potaro, where is this waterfall.
For a long time, Europeans were unaware of Kaieteur. Considered a pioneer Charles Brown, an English geologist who discovered the falls in one of his expeditions. Since then, Kaieteur is one of the most impressive and beautiful waterfalls on earth.
This waterfall, despite its impressive size, is little known in our time. Rules of the road in 2011 and then have more fame than it is a wonderful waterfall. Not every day, here come the travelers who want to enjoy this majestic beauty. This phenomenon is explained by the inaccessibility of the waterfall. It is quite far away from tourist routes and isolated from civilization. The abundance of rivers, vast tropical forests, unspoiled nature, waterfalls - that is what attracts few tourists to Guyana. On Aboriginal language means Guyana - a country of many waters. Kaieteur is Potaro River, which is the main attraction of the country and in 1929 the area around the waterfall began to wear the name of the National Park Kaieteur.
For those wishing to visit the waterfall, there are two ways to achieve the goal: A two-day walk or a small aircraft from Georgetown. Choosing the first option, you must be confident in their abilities and have good physical fitness, for quite a long journey and the path goes through the tropics.