Uruguay - the heart of South America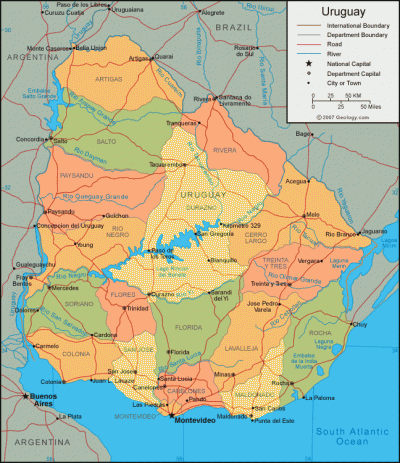 Uruguay - a small and economically prosperous country in the heart of South America between Brazil and Argentina sunny. Some jokingly say Uruguay European country, the majority of the population - are descendants of immigrants from Spain, Portugal and Italy. The official language of the country - the Spanish, the second - English. Criminal situation in Uruguay is much better than the rest of the South American countries.
City of Montevideo - one of the safest capitals in the region. Within the city there are many buildings from the colonial period, placed there by museums, art galleries and antique shops. Until now, many people in the country communicate with relatives who live in such European cities as Rome, Madrid, Parma, Naples. To the east of the country for lovers of nature is a paradise: the abundance of birds and animals, unspoiled springs and swampy terrain.
UNESCO recognized the country's eastern territories of nature reserves that are under protection. Black and Uruguay Rivers, attract fishing enthusiasts and while kayaking. One of the most popular places among the lovers of night life - the island of Punta del Este, on the one hand washed by the river La Plata, on the other - the waves of the Atlantic. Throughout the country are scattered numerous ranches, where everyone can feel like a rider.
To the east of Montevideo along the Atlantic coast stretch white sand beaches, reminiscent of French or Italian Riviera. The beaches stretch to the border with Brazil, here are some of the finest resorts in all of South America. The town of Colonia - del Sacramento is a historic coastal settlement in the XVII century. Uruguay - a small-sized country with great hospitality and friendliness. In Uruguay, arrives every year lots of tourists in the warm sea and the gentle warmth of the sun.