Beginning of a journey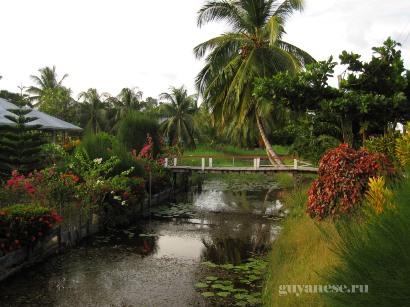 To begin your journey through the western part of Guyana, Georgetown had to be out of reach to the floating bridge to cross it, and then on the West Bank Demerara, to get to wigs.
I went to the road on Sunday morning. Arriving at Stabruk market, found a minibus up to 32 wigs. There was another version - with a berth to Stabruka Fried-and-a floating bridge Hupa on the west bank of the Demerara water taxis go. As it turned out later, in Western Guyana extremely common thing. Cross the Demerara taxi about 20 minutes. Transfer by bus takes about the same time, and wigs all the way to a whole hour somewhere.
West Bank Demerara is different from the randomness of the Eastern buildings, gloom - the darker colors, sometimes it seems mixed with dirt, as well as an abundance of church architecture.
Huge in size, scope, and the blinding brightness of the Indian temples, with huge statues of Hanuman and Shiva (from 160 cm to 2 meters), the Catholic church with statues of Mary in the life-size wrought bell, the typical short, but it is very green mosque. The names of the settlements of West Demerara indicates the long-standing presence of the Dutch - Vreed en Hoop, Utvlight, Kastev, Meten-Meer-Zorg.
The last I had to make the first stop on a journey to the western part of Guyana. Meten Meer Zorg - ideal for those who are interested in the history of Guyana and the Guyana coast, as well as old artefacts - antique books, coins, glass, household objects, weapons, and anything that can be associated with the past. It is located here Guyanese History Museum, where collections of things much larger than the collection of the museum in Georgetown, both in importance and in its information.