Barcelona - Solar City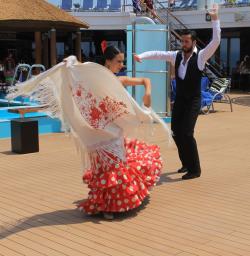 The second largest Spanish city is Barcelona - pearl of tourism. Tour of Barcelona will give you the opportunity to enjoy the beauty and elegance of the city. And the weather here is almost always outstanding , which makes comfortable and memorable stay .
Montjuïc , located in Barcelona, ​​is loved by tourists , with an altitude of 173 meters . On this mountain are the main attractions of Barcelona - the castle and the Olympic buildings , as well as singing fountains . In the city can be reached by plane , train, bus or private car .
Being in Barcelona should visit the Temple of the Holy Family - is the most popular attraction. Temple looks incredibly beautiful , unusual, as if made ​​of lace. The second most visited tourist attraction - a " Ramblas " - the boulevard , located in the center of Barcelona . On this street you will meet great actors , clowns, comedians . Life here is buzzing round the clock !
Should not lose sight of , and Parc Guell . It is unusual in its architecture and paints park with gingerbread houses. The famous Spanish village attracts tourists no less - you can get acquainted with the architecture of all the regions of Spain. In Barcelona, ​​is one of three museums dedicated to the great artist Picasso.
Not many tourists visit the park " Ciutadella " ( "Citadel" ) , and very sorry , because it's a very interesting area of Barcelona. Previously, there was located a fortress. Talk about Barcelona can be very long , but it is the city , to see which is better themselves and enjoy plenty of its beauty.
In Barcelona, ​​the huge number of hotels to suit every taste and wealth. There are even hotels with Russian-speaking attendants . Most are located in the city center . Spaniards are very hospitable and friendly and will gladly show you the way , explain in detail how and where to go .
No less famous and the Barcelona beaches, affecting its purity. Caught in the Barcelona sun do not deny yourself the pleasure to go shopping and small shops - the variety of goods and souvenirs you will be pleasantly surprised .
In Barcelona you can enjoy any cuisine in the world. Any tourist , even with the most exquisite taste will be satisfied with this stay because Barcelona provides a truly royal choice of places to stay, attractions, shops and restaurants. Choice just for you! If you are not attracted to the charm of Europe, then go for tours to Mexico , that's where the real exotics for the Russian people .