The customs of Brazil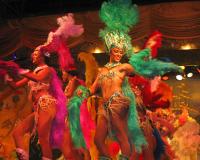 Holiday, summer all year round, light-hearted country - that's what first comes to mind when the word "Brazil".
Summer is here, indeed, eternal, but not throughout the country and just not what it seems to us, is never in this country. Climate similar to southern Brazil to Western Europe, where it is sometimes cooling to zero degrees. In the north, the constant alternation of the rainy season and dry season instead of opposing "summer - winter." So, as you can see, the summer in this country is not carefree.
If you look in the other stereotypical facts about Brazil, in truth they are not so much.
According to recent research, to work Brazilians spend as much time as the Germans and Japanese. Perhaps for this reason that the state is so active with their services and products out to international markets, rather successfully competing with many world leaders, not only the traditional to the traditions of the agricultural sector, but also in technical fields such as space and aeronautics Electronics, also in the areas of creativity and art. Winning prizes in one of the largest international festival, "Cannes Lions", the Brazilian creators of advertising for several years set the general background in this area. Very popular today throughout the world clothing, footwear and furnishings created by the hands is Brazilian designers. As you can see, the myth of the eternal feast of carelessness and only a myth.
Besides the fact that Brazilians so zealously working, they also love and play. After a difficult working day will help relax friends, TV and football. A huge corporation Globo sets the tone for television. Part of its products, of course, soap operas that are popular and loved in our country. TV entertainment, though known to Brazilians, but not fundamental. This national passion - football. It is quite normal for the whole family suffering from the stadium for your favorite team. And what if there is no game? Then you can meet friends, go to the bar, go to visit or to arrange a party. Discuss the news of football, politics, and just talk - the good old tradition, which, unfortunately, begins to disappear because of the rapid pace of life and lack of time in the big cities.
In Brazil, a lot of holidays, and not only the state, then relax and know how to love. The most mentally observed family and religious celebrations. Large and lavish feast unchanging attribute of any celebration. And eat a lot - too old tradition of this country. The most important holiday tradition and celebration dates - this is, of course, world famous Carnival, which lasts a week and attracts more tourists in recent years.