Madrid - Spain's ardent heart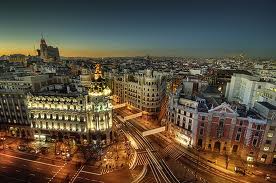 Which of the fans has not dreamed of traveling to hear the sound of castanets and see a bullfight in Madrid itself - in this wise life experience, and at the same time, forever young city? Madrid, who lives under the sounds of flamenco, energetic, like the dance, upbeat, and luxury, hits all of his visiting its attractions.
Of interest in the ancient area of ​​Madrid: the main square - Plaza Mayor, Puerta del Sol and the trendsetter of architectural tradition of Madrid España Square, where you can admire the monument of the famous writer Miguel de Cervantes and his no less famous heroes. Another great area of ​​Madrid - Cibeles fountain of the same location and close to the Prado Museum. The museum is famous for the numerous masterpieces of world culture: the paintings of famous artists, and a stunning collection of sculpture, consisting of more than two hundred items. Next door to the famous museum, located station Estacin de Atocha, famous for his ultra-modern roof made of glass and iron, which is located at the waiting room is decorated like a tropical garden with various plants and rare specimens of fauna.
Among the tourists visiting Madrid, the singular appeal of famous royal palace, built in Baroque style, moreover, very similar to the residence of French kings at Versailles. There is also a beautiful palace garden, and stunning beauty.
Park, Casa de Campo, which enjoys great popularity among its ponds, lakes and attractions to offer tourists a ride on the funicular railway, enabling to see the best sights from bird's-eye view:
Convent de las Reales Deskalsas, founded in 1559 daughter of King John;
Museum of modern art Queen Sofia, the exhibition is devoted to the Spanish art of the twentieth century;
Pantheon of Goya, who more often called the Sistine Chapel in his name, here he painted the walls and dome of the little church paintings depicting the miracles of St. Anthony.
The two main central highway in Madrid - Paseo de la Castellana and Gran Via. The first is located on it is rich in numerous theaters and entertainment centers. On Paseo de la Castellana are the banks, luxury commercial buildings.
And, of course, you do not eat all the charm of Spain, if you do not visit a bullfight, which is done according to tradition, in May, the day of St. Isidore and do not get your adrenaline. Same aesthetic pleasure you can get by taking part in a festival of flamenco, which runs several times a year, or just come and dance in a cafe Chinitas, where the dance is always dancing.