Amazing underwater museum of sculpture in Cancun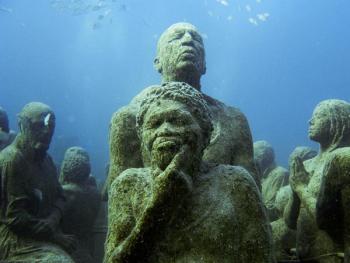 In Mexico, off the coast of Isla de Mueres in Cancun is the largest museum in the world of underwater sculptures. The idea to organize such an unusual exposure of the UK owned by sculptor Jason de Kairos Taylor. The main objective of Taylor, he said, was to draw public attention to the environment. In addition, the museum brings a good income - "ticket" is from 40 to 90 dollars.
In this difficult task of helping Taylor Director of the National Marine Park, James Gonzalez and a member of the Maritime Association of Cancun, Roberto Diaz. The project started in 2009 and originally included the exposure of about one hundred sculptures. Today hectares of the seabed in Cancun are decorated with extraordinary sculptural landscapes - sculptural group has about 400 units. As conceived by the creators of sculpture should eventually become an artificial reef and take over most of the tourist flow. Every year the Caribbean attend more than three hundred thousand tourists who cause considerable damage to the underwater flora and fauna. To some extent, the main objective of the project was achieved - many divers switched from traveling on natural reefs in the man-made tours of the underwater attractions.
The museum is located in shallow water - the depth of the seabed in these areas ranges from 2 to 10 meters. It includes three exhibition, located at some distance from each other - about the island of Mujeres and Punta Cancun and the localities of Punta Nizus. The road to the coast not be easy either for off-road or for the small car - the roads are good and there are signs everywhere. A large part of the exhibition lies at a depth of 8-10 meters, so you can only see the museum, wearing scuba gear.