Rest in Crimea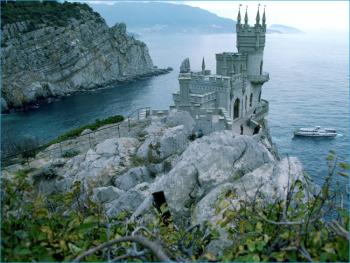 Crimea began its development as a resort in the second half of the 19th century. At the time of Lenin All-Union health resort of Crimea was. Hundreds of thousands of people have sought here for treatment and recovery. It was only later in the Crimea became more active and come to a beach holiday.
   The most famous resort areas of Crimea Yalta and Alushta are, Evpatoria, Saki, Feodosia and Sudak regions.
   Each of the regions, no doubt, deserves special attention, but would particularly like to single out the Yalta and Evpatorsky areas.
   Yalta area is perfect for families with children. 15 years ago it opened its first in Ukraine and CIS private zoo "Fairy Tale". He is also the largest in the Crimea. Here you can see not only see over 100 species of animals, but feed them.
   On the shore of Blue Bay is a water park "Blue Bay". Around the water park pines and juniper, which gives a distinctive flavor to the air. This is the only water park in the Crimea with sea water. Water is a pump from a depth of 15 meters, 400 meters from the shore. This site was designed specifically Biology of Southern Seas, and is considered the most pure.
   If your child wants to spend summer vacation alone, the camp "Artek" is the perfect place. Children from different countries and cities visited in the camp come back with unforgettable experiences and memories of holidays in the Crimea.
   Evpatoria has long been recognized as a popular resort for rest and treatment of children. The swimming season is very long on the whole Crimean coast.
   In Evpatoria are more than 60 medical health centers, boarding houses, hospitals, rest homes and hotels. One of the best resorts is sanatorium "Dnipro". It treats respiratory diseases, musculoskeletal system, skin diseases, blood, cerebral palsy, a disorder of the central and the peripheral nervous system. At 50 meters from the resort were located private beach. There are all conditions for comfortable rest and treatment.
   Many notice that holiday in the Crimea has its peculiarities. This is largely due to the nature of these places, historical moments, a very warm climate in some areas, beautiful mountains and friendly beaches. And do not forget the atmosphere of relaxation, which hovers around the Crimean peninsula.