Rotterdam. History.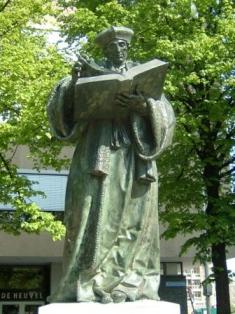 Rotterdam ("dam on the Rotta") - a city that will experience for yourself. This is a young, dynamically developing international city, with a passionately beating heart. His ever-changing nature, will allow you to open it again and again.
When in 1270 the dam was built across the river Rott (Rotte), a small fishing village grew up along its perimeter. Could the small village of the first settlers to imagine that once it becomes a huge metropolis?
In 1340 Rotterdam was granted city status. Its inhabitants were energetic, hardworking and determined. Trade developed, and new docks were built with unprecedented intensity before - it was the impetus for the rapid growth of the city. The new channel, linking the river Meuse and the sea, was dug between 1866 and 1872 years. Rotterdam turned into an international port, which is the great world only knew.
May 14, 1940, during World War II, almost the entire city center was destroyed in a massive bombing campaign. After 2 weeks, after the war, launched a program of reconstruction. Rotterdam broke with the past, and put the path into the future. Light, air and space have become the slogan of the new city. In 1954 was completed Lijnbaan, the first pedestrian shopping street in Europe, where purchases are made 7 days a week.
Today Rotterdam is full of modern architecture. Where are all homegrown and foreign architects and receive needed space, both literally and figuratively. Erasmus Bridge (Bridge of Erasmus) was built to connect the city center and its southern part, a graceful like a swan, the bridge was named after the famous Renaissance humanist, theologian and philosopher - Erasmus of Rotterdam. Kop van Zuid (Cope baths Zuid) and Lloydkwartier (Loydveyrter) striking examples of urban renewal, with its impressive skyscrapers and buildings turning into port.
Rotterdam - the world-class metropolis. It is the international headquarters of the chemical, perfume group Unilever, and one of the largest medical centers in the Netherlands - Erasmus MC (Erasmus Medical Center). The film industry, as well as fine art, continue to evolve in Rotterdam. International Film Festival - is the main proof of this. Known throughout the world: Designer Richard Hutt, designer Marlies Dekkers lingerie and architect Rem Koolhaas - continue to amaze the world with his creations, is based in Rotterdam ...