What kind of country India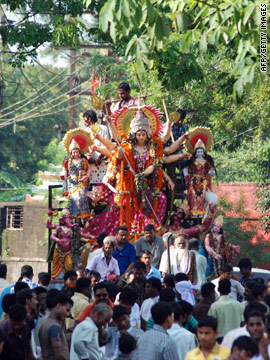 India on all its very nature an amazing country. India is one the oldest cultures on the planet. It is so different from the European civilization, even the famous definition of "exotic" such as small and narrow for this country. This place is incredible variety and a rapid change of impressions.
The biggest and the huge Himalayan mountains, which are topped winter hats, fabulous waters of the Ganges, just blinding and white, clean beaches of Goa and simply magical city of so-called "golden triangle" - Jaipur, Agra, Delhi, mystical Tibet, with its numerous temples and monasteries, filled with different colors of numerous tropical forests of the Western Ghats. We can say that it is only the smallest part of what can show up and offer tourists Great Bharat. India is one of the largest countries in South Asia, so there are almost incompatible place different climatic zones, with the result that, at any time of the day, night and year, you can easily choose a suitable area for your vacation.
Determine the quality of service in India is not there. Since many hotels of four and five stars, the most part, are owned directly Western hotel networks, which can easily guarantee a high level of service.
Stunning scenery and amazing nature of India is its great attraction. You can just go over the years on different routes, which take place in the mountains and in the jungle. The people who lived hundreds of centuries in the land of the Great Bharata left a huge footprint, with the erection of the beautiful cities and the creation of great works of art.
India is also famous for its historical monuments. So, for example, in the city of Delhi is the sanctuary of the Qutb Minar - The Tower of Victory, it is a minaret of the five tiers of more than 70 meters long. In New Delhi, a temple of Lakshmi-Narayan, which is the sanctuary of Krishna and Lakshmi. In the historic city of Agra, built the most beautiful and romantic monument to all lovers in India Taj Mahal. Taj Mahal - this mausoleum of unmatched beauty. The busiest and largest city of India Mumbai is famous attractions such as Flora Fountain, St. Thomas Cathedral, Victoria Terminus station, the House of the Supreme Court, and many other interesting objects of culture. So happy to visit this wonderful country, a lot of impressions you provided.