Wedding traditions in South America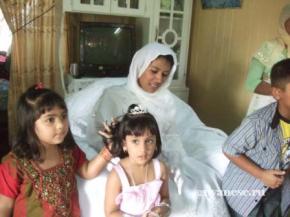 Wedding custom, held in South America, has a number of similarities with the Russian wedding traditions, as well as key differences between them. Father of the bride and groom's mother charged with enough assignment - they must lead to the altar for their children. At the altar the couple did not exchange rings, and publicly declared serious intentions and feelings towards each other. Of the ring in South America taken hold in the engagement.
Holiday table, of course, receive special attention. It must necessarily attend the national dish: empanady, pies, which are made with puff pastry and are filled with a variety of content (corn, meat, cheese, etc.). Empanady can be fried in oil or cooking in the oven. It is also very popular dish at the wedding table is a meat that is fried in chunks on the coals.
No original gifts do not equal in value with the gift of life, like a wedding. Being a smart social events, it remains forever in the hearts of the newlyweds.
At the wedding, decided to play music all night long, and the newlyweds and guests danced, sang funny songs on guitar and rejoiced heartily. When it's time to complete the celebration, the young move into their apartments, the guests also begin to disperse to their rooms. Quite often, the couple choose to celebrate until the morning to a big event in their life lasted a little longer as you can. The morning arranged breakfast for the rest of the guests, it is considered a continuation of the wedding. For breakfast served at the table all kinds of treats and a variety of dishes. A feature of the breakfast table is the absence of any type of alcohol because of his drinking the next day is not accepted by South American traditions.