Recreation in Guyana
Holidays in Guyana kind. The ocean here is, of course, there is, but it is impossible to swim. Therefore, a beach holiday here does not exist.
                All Resort located on the numerous rivers of black water.
                They say that this water is very healing, it is not surprising when you think on how many leaves and roots she insisted.
                
Swim in these rivers and streams can be even the pouring rain.
              It is amazing to travel the rivers of Guyana. Dense jungle reflected in dark water, and you cease to distinguish where the water ends and begin the coast. For the imagination is close to the fantastic landscape.
              
Resort itself is a few wooden houses, roofed with palm leaves, furnished with wicker furniture. In the houses there are bedrooms, where you can quite comfortably for the night. Feeding tourists do amerindeytsy from neighboring villages - missions that come here only for a time, until there is tourists. In the absence of tourists not one living soul on the Resort, no.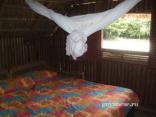 There are plenty of board games, no television, and generally take no civilization. Lighting by kerosene lamps.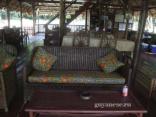 There are resorts and electricity, but more expensive. And, I think, lost all the charm of presence in the wild.
              Typically, such a holiday combined with a walk through the jungle. Necessarily with the conductor, who goes ahead and clears the way with machetes. Tourists in Guyana just a little, and usually for the arrival of the next group path almost entirely obliterated. Without a guide and can not go due to a possible meeting with representatives of wildlife. For example, with the snakes.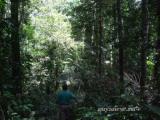 They are usually people do not seek to learn, but still ... But you will not find anywhere else such an abundance of wildlife.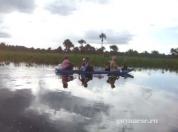 Special Ecotourism fans come to such Resort for the night, or even for a few nights to early morning encounter near his bungalow rare butterflies and birds. Crocodiles, of course, also are found, but they can be seen only at night. Anyway, I was lucky I did not see. They say they glow in the dark eyes.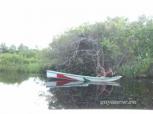 I do not like extremes, so not tested.
              But most importantly for such Resort is quiet and calm. Clean air and absolute quiet away from any civilization.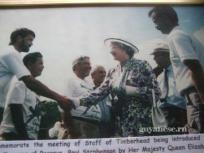 For example, one such Resort - Timberhed. This place even visited by Queen Elizabeth in 1994. In this work Resort Indians from the village of Santa Mission, located a few miles upriver.