Montenegro - unforgettable country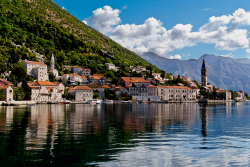 Montenegro - the youngest European state . It became a separate state in 2006. Despite such a young age for the state, it has its own culture , traditions and history . Montenegro is rich in wonderful nature with unforgettable scenery and wonderful lakes.
Podgorica - Montenegrin capital . It's not a big metropolis and small town . Residents of Montenegro are mainly engaged in tourism, rent out their houses and villas for rent for visitors . The country is located on the Adriatic coast . The length of the coast is more than 300 km .
Cities in Montenegro opened to tourists . The easiest and most effective way to see as much as possible is to rent a car in Montenegro and a ride in the country.
Becici city has a two-kilometer golden beach . It is a modern hotel complex, many restaurants and bars . The most luxurious resort in Montenegro - Sveti Stefan is located in one of the beautiful and picturesque places of the coast .
The most popular city - Budva . He is world famous for its beaches, more than 500 meters . At night, the city hosts numerous parties, festivals and concerts that attracts very young.
Petrovanets - quiet resort surrounded by greenery, with beautiful sea and endless beaches . Ulcinj city known for its beaches stretching 24 kilometers . Kotor - another popular resort in Montenegro , its main attraction Cathedral of St. Triphala .
Cetinje - the cultural capital of Montenegro. This ancient city , founded in 1482 , is famous for the oldest building - the church Vlashka . In the same city is Cetinje Monastery - the main place of Orthodox residents.
Another shrine in Montenegro - monastery- fort preserving relics Vasily Ostrovsky. This monastery is located in the rock, high in the mountains ( at an altitude of 0.9 km above sea level) , and to walk up to it , you need to walk about 8 km on foot .
Skadar Lake - the most beautiful lake in Montenegro , which stretched around the most amazing scenery. It is also the largest repository of fresh water throughout the Old World. Along the coast of the lake has numerous churches, monasteries and castles.
Tara canyon has a length of 83 km . Rocky mountains, waterfalls and gorges - all this is surrounded by the extraordinary nature. Here goes Dzhurdzhevicha bridge connecting the two parts of Montenegro.
Montenegro - a country with a unique architecture , monasteries and cathedrals. The country simply immersed in greenery . Nature and conquer the lake for its beauty and uniqueness.