Dubai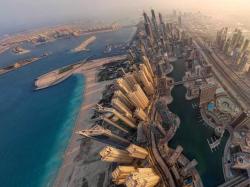 Dubai - one of the most ambitious and luxurious cities in the world . It was once a small fishing village . Now in Dubai comes the flow of tourists from around the world to not only look at the obscenely rich metropolis, but also to admire the unusual and bold futuristic architecture of the city , whose construction is not stopped now.
Population in Dubai only about a third of Alaska , and the rest - immigrants from Asia , the CIS countries , the Europeans and even Americans . Migrants advantageous to employ as local claim to a bigger salary , besides , many of them do not need to work as the state pays its citizens fairly decent benefits. Therefore, the wait staff , vendors , waiters, office workers , builders, engineers, architects , medical professionals in the majority of hiring newcomers. But , nevertheless , quite peacefully Arabs are treated as immigrants and to tourists.
Earlier in Dubai attracted a huge shopping malls and white sand beaches . Now come here delighted tourists to see more and sophisticated architecture , good city all the time trying to surprise and beat all kinds of records. One of them - the highest skyscraper Burj Khalifa ( 828m ) . On the 124th floor is an observation deck with stunning views over Dubai. At the foot of skyscrapers is an artificial lake with a world-famous musical fountain . The music of various symphonies jet fountain painted ornaments, shimmering colors of the rainbow , and reach a height of over 150 meters. Include Dubai Fountain show every evening and light show every half hour.

No less ambitious project can be called an archipelago of artificial islands, each of which has the shape of a palm tree. While operating only one of Palm Jumeirah. The other two are still under construction . Later on palm islands are planning to open a chain of beaches. It is on the Palm Jumeirah is the most luxurious six-star hotel Atlantis . Also located on the island waterpark Akvaventure and Dolphin Cove where you can swim with the dolphins.
Another architectural masterpiece is a hotel - sail Burj al-Arab . This is the second in the world for a hotel and , as befits the Emirates , one of the most luxurious .
In the largest shopping and entertainment center " Dubai Mall" is an aquarium that is listed in the Guinness Book of Records . This indoor aquarium , which floats over 30,000 sea creatures. Inside there is a glass tunnel , where you can walk around and look at the " Ocean in miniature ." Fans of extreme sports available for a fee can swim in a metal cage of tiger sharks .
The most luxurious, most fantastic , with the largest scale and the most amazing thing - perhaps the only way to talk about Dubai. And what else might be one of the most beautiful cities in the oil state ?