Rest in Adler.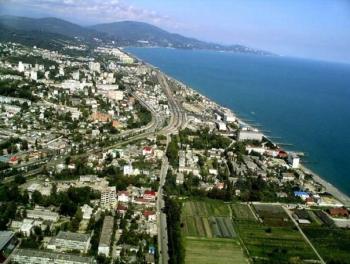 Adler - this is another great place to Sochi area, where you can spend an unforgettable holiday. Adler is not an independent settlement, as many visiting tourists. Adler - is part of Sochi. Try to take note of, otherwise have a chance to get laughs from the locals. In other matters, this is not the most important thing to know about this place. The main advantage of intra-region - a unique medical base.
   The local spa treats silt mud, soaked in hydrogen sulfide Matsesta healing properties of water. This treatment is recommended for a wide range of diseases, especially chronic stage.
   Perhaps the most famous resort in Adler, who is worthy of attention - "South Seaside." South Seaside Sanatorium Adler was founded in 1964 and came to the Ministry of Atomic Energy. About 5,000 workers of nuclear industry have been treated in the sanatorium. On the recommendations of Ministry of Health and the Social Insurance Fund of the Russian Federation was the center of spa treatment and reconstructive rehabilitation of victims of the Chernobyl accident.
   Today, "South Seaside" treats ordinary citizens as well.
   Summer holiday in Adler - this is a good opportunity to combine a beach holiday with excursions. The bulk of the beaches is free, where if you want you can take the sun beds, umbrellas and other equipment for an additional fee. And for fans of the warm sea of ​​stones is not necessarily an additional "equipment".
   The coastal line is just dotted with a variety of cafes, restaurants, discos and attractions. This resort is equipped with a powerful place of entertainment infrastructure: the dolphinarium, water park, indoor and outdoor swimming pool and lots of tours to suit all tastes.
  For those in whom the blood is shed adrenaline white water rafting - the perfect opportunity to get a dose of thrills. Rafting is a group rafting on the river, in this case the river Mzymta for inflatable boats - rafts. For this river travel is not required special skills. Before you give the alloy lifejackets. The boat will be two instructors - lifeguard, which make river rafting, and you're just admiring the beauty and trying not to fall into the water. I want to warn those who do not like ice water, and it was icy out there, believe me. The fact that you brought to the place where told that you can smear mud, but before enthusiastically run and turn themselves in chocolate mulatto-remember that you will be asked at the end of it all wash away, and at your fingertips This is the most mountainous and cold water. But its charm is and can feel like a walrus.
   In the course of thrills - jeeping. Just do not flatter yourself, hoping to see supernavorochennogo jeeps. We offer UAZ. This should not stop you, just keep in mind that will shake the concrete - you do in the mountains, not on the plain.
   In the summer, Krasnaya Polyana will give you a more soft feel, rather than sharp. In this time of year for you to horseback riding, wine tasting honey from local apiaries, but the real winter ski resort.
  
   Choose a vacation to taste, travel and have fun.