Finland . Winter's Tale - Lahti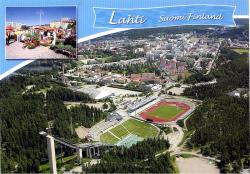 Small but very picturesque town often called the heart of Lahti in Finland. It is located in the system Päijänne and perfect at any time of year. Tourists from all over the world come here to take a break from the boring city bustle , skiing , enjoy the northern nature .
In the city center is located at ease magnificent sports complex with numerous pools and saunas, ice stadium , ski jumps , equipped with ski slopes and hiking paths . In the sports center has a museum even skiing , where anyone can test their capabilities in a simulator jumping . At the top of one of the springboards equipped observation deck .
Active family holiday park " Laune " attractive for young children, and for their adult parents . Fortress adventure , avtogorodki , slides await guests . It offers tourists a mini- golf.
To experience the atmosphere of the old town you have to walk through the historic center to admire the Town Hall, visit the Historical Museum . The first mention of Lahti refer to 1445 , and historical museum located in the estate in 1897 . The small town is rich in various museums - museums besides those already mentioned skiing and History , there are also Art , Museum Graphics, Museum of Military Medicine , incidentally, is in a building built by the Russian people . Very interesting Museum of Radio and Television , where every visitor can become a participant interactive show with special effects .
In the main church of the city - Ristinkirkko tested organ concerts that attract all fans and music connoisseurs . A large concert hall "Sibelius Hall ", famous for its wonderful acoustics, held not only concerts but also congresses .
Lahti - a real Mecca for shopaholics . The largest shopping center - Mall Trio - you can buy almost anything your heart desires. Here are the products from consumer electronics to exclusive jewelry . But the main feature of the local and pleasant shopping - it's numerous shops at factories producing textiles, clothing, footwear , furniture, and selling products in almost factory price .
Having made a bargain , good day to finish dinner in a floating restaurant. It offers a menu of fresh fish and great local beer will be served .