Victoria Regia - the national flower of Guyana
This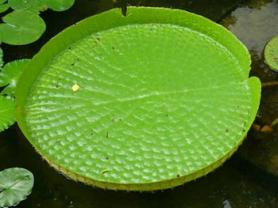 lily is named in honor of Queen Victoria and her homeland - the Amazon and adjacent areas in South America.
In 1836, the flower was first discovered by German researcher JF Poppigom. He called the lily Evriala Amazonika.
That same year, another researcher, Richard Schomburgk has described this same flower in British Guiana. He called the Victoria Regia flower, in honor of the Queen of England. The official name of the flower was the "Victoria Amazonika," but many of lily known as Victoria Regia.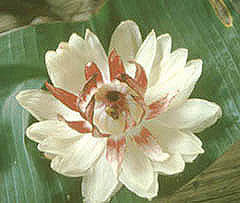 Victoria Regia lily largest of all the water lilies. Its leaves can reach more than 8 feet in diameter. Leaf color green or yellowish-green.
Victoria Regia - the national flower GayanyNa located outside of the rim, which can grow to 5 inches (about 12 cm) in width.
Flowers can reach up to 10 inches (25 cm in the clear).
This beautiful flower emits a rather powerful smell, a mixture of the smell of bananas and pineapple.
Seeds of Victoria Regii very nutritious and are used for food by local residents.