Khosta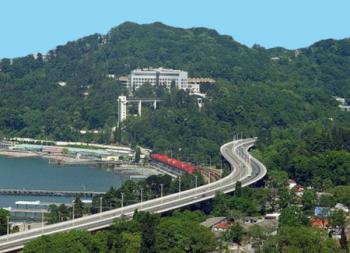 By law, the largest resort city of Sochi is Russia. However, due to increasing "value" of the city gas polluted air has become pretty. Therefore, towns and cities of Sochi region are becoming increasingly attractive destination for tourists.
    I would like to mention one of the wonderful and quiet villages of the district of Sochi - Host. This rich natural coastal village situated between Sochi and Adler, on the spot where the river empties into the Host into the Black Sea. The village as it is surrounded by subtropical gardens and majestic scenery complemented by the Caucasus Mountains. Unique notes tisosamshitovoy trees give the air a special charm. The whole mountain-sea cocktail creates suitable conditions for the location of health centers.
   The most famous resort Hosts: Aquamarine, Blue Hill, the Caucasus, Progress, Boxwood, satellite, wave. Before you choose to study in detail the location of the resorts, accommodation, and the types of procedures and treatments that they offer. For example, the most common types of treatment: cardiovascular, musculoskeletal, gynecological, urological, skin, neurological, upper respiratory tract.
   As an additional service may make a beauty salon, sauna, spa-procedures, tennis, gym, cinema, etc.
   If you do not really want to worry about finding free places under the sun, it is best to choose a resort that has its own beach. It is very convenient, especially since the resort is usually watching the landscaping and appearance of the beach.
   For those who do not like to spend time in your room and on the procedures offered an abundance of attractions and now hosts the most spectacular of them:
   Vorontsov cave. You don special protective clothing, helmets with flashlights and go into the dark depths of the labyrinth 11.7 km long. Be prepared that it will be cold - the temperature 9 - 11 degrees is the norm inside the cave at any time of year. You will have the world of stalactites. And if you think it's stuffy, you are mistaken - the air is so pure that it is much less germs than on the surface.
   Navalishinsky Canyon and the White Cliffs. To see the beauty of this place will have to drive about 9 kilometers. Forest trail will take you to the lookout, "White Cliffs". The distance from the cliffs to the bottom of the canyon in the tens of meters. A narrow gorge in places the river forms a large Hosta minor waterfalls. All visitors can plunge into the cool water of this wonderful river.
   Zmeykovskie waterfalls. These falls were named after the Snake Mountains, the river which washes the savage. Falls are located near Matsesta. Waterfalls and unique rock canyon represents a straight fracture, an impressive spectacle. The largest cascading waterfall - 25 meters in height.
   Matsesta. In this marvelous spa resort of Sochi can sample a "fiery water", as locals call the mineral water that is extracted from the depths of 700 -1800 meters and it has healing properties.
Remember, where and how you relax, depends on you.