Tips and tricks for tourists to travel to French Guiana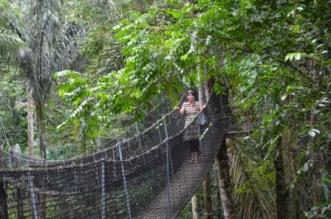 French Guiana - a country with regard to the overseas possessions of France. To visit this country, citizens of Russia must obtain a visa. To do this, should visit the Consular Section of the Embassy of France.
Acceptance of documents for a visa to French Guiana may be carried out in the French visa centers, which are located in the following cities: Moscow, St. Petersburg and Yekaterinburg. You can also obtain a visa either at the embassy or the consulate general of France, located on the territory of the Russian Federation. The important fact is the need for an appointment by calling the Visa center.
Apply for a visa can be made directly to the owner of the passport or its close relative (if it has proof of relationship), as well as an accredited travel agency. As for the Visa Application Centre located in Moscow, here as always there is a way of application through an attorney.
To apply for a visa, you will need the following amount of time. A minimum of ten working days is the period of consideration is directly submitted application. Consequently, for those people who are going to go to Guiana, it is necessary to apply at least twenty days prior to departure.
It is important to note that visas are different in term of its action. Thus, there is a short-term visa, which is a single. Expiration date - from one day to 30 days. Multiple long-term visa allows you to stay in the country from 30 to 90 days.
Getting in French Guiana may be many different ways. The most common of them - it's a plane. Thus, the flight from Moscow to the French Guiana may be carried out by several routes. For example, Moscow → Rome → → Accra French Guiana, Brussels or Moscow → → → Lome French Guiana, Paris or Moscow → → → Lome French Guiana .... Route selection is yours!
And a couple of recommendations on the country last.
It is important to note that in French Guiana - quite an expensive country. Costs as a living directly and in the products, you can easily compare the cost in France itself! If you decide to stay at a low level, guided by the amount paid for the use of number, not less than 45 dollars a day. If you want to live in institutions that have a higher level, good restaurants, but also the hot water in room (!), Then a night in this room you will have to pay about 100 dollars. All types of transport services is also very expensive.
As for security in French Guiana, it is ambiguous. The capital is safe in the daytime, but do not want to go and see the night on the coastal zone, especially near the Vieux-Bourg and near the port. Be sure to use only licensed taxis.
To be able to visit the Indian villages in areas such as On-and Off-Oyapok Maroni, should be warned beforehand about the permit in the prefecture of Cayenne. This is best done before the arrival of French Guiana.