Castles in Germany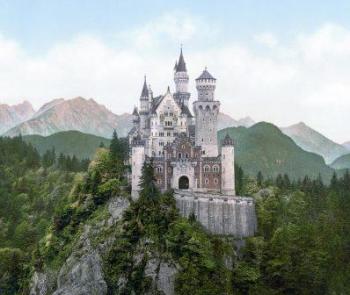 In ancient times, the German castles were built for kings, princes and knights. Contemporaries, they are attracted to its architecture and compelling mystery.
Olin of them - Castle Neuschwanstein.
"The new swan stone" built a romantic and a hermit, Ludwig 2. Next to this are the splendor of the high peaks of the Alps. Nature, which is combined with a lock, in common with the fairy-tale motifs. Waterfalls, pine forests and majestic lake with swans. Since childhood, Ludwig 2 soaked legend of the swan knight Lohengrin. After becoming king, he built a castle in the divine nature, and by signing an offensive alliance with Prussia, settled permanently in his favorite castle - "Swan's Stone"
Anyone who enters the castle, a prisoner may be a popular legend. Spiral Staircase, the Throne Hall in the Byzantine style. Bedroom and living room of the king. On the walls of scenes from the life of a knight and his father. Mystery Castle is full of underground passages. Underground tunnel to the outputs from the lock edge of the forest. Bridge over the waterfall adorned Marienbryuke. Nowadays, the castle is not enough - silence. There is always a lot of people. They intrude into this world, and settle here forever. And even they do not live in the castle. But take away with them memories and bring new fans. And so, day after day in a castle full of life. And the legend of King and Knight.
Linderhof Castle
In translation - Linderhof Castle - yard, where it grows lime.
It is located in a valley Grasvangtal, very elegant, decorated with antique statues and gilding. The castle is surrounded by unique plants and flowers. There are many rooms and mirrors. The bedroom has king bed 4 by 4.
Harburg
Hamburg is the oldest castle in Germany. It was built in the 11th century, many times changed hands and, therefore, was rebuilt. Harburg has incorporated all sorts of architectural styles. It is a museum, hotel and restaurant.
Nymphenburg
The largest ancient castle in Germany, 700 meters in size. Despite the destruction of the war, the castle lost its elegance. On the walls hang portraits of the beauties of the palace since the days of Ludwig 2.In the halls of the castle are very beautiful things. A masterpiece of architecture - Nymphenburg gardens. Garden of a huge and very beautiful. It's got two channels, lakes, ponds, the chapel.
Journey to the castles of Germany, is a journey into the fabulous world of the past.
Three of the castle built above the king, in love with castles and embodied its most absurd desire in life. His frenzy played a very positive role. He gave Germany the magnificent creatures for centuries.