Suriname agrarian country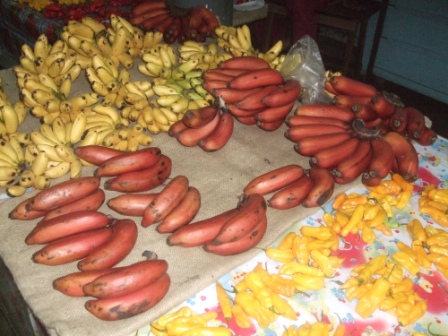 Suriname, of course, an agricultural country. Along the road from the border with Guyana to Paramaribo are extremely well-kept banana plantations. What struck us is the fact that each bunch of bananas is dressed in a large plastic bag. Apparently, put bags on the stage of flowering, and banana bunches grow is right inside. And the birds do not eat, and how convenient to collect later. Also on the road and caught a couple of farms with cows, washed in zagonchikah under the eaves (from the scorching sun, the tropics after all).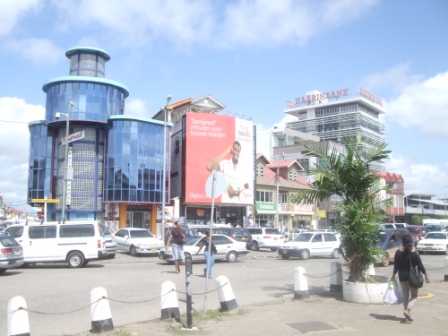 Suriname is undoubtedly a tourist country. Although the dark as well as in Guyana and throughout the year early (at 6, in the summer at 7 pm), but this evening the whole of life is just beginning. The first night we spent in the guesthouse Albergo Arlberg in the heart of Paramaribo. Guesthouse was fully packed with young tourists from Europe. On the central bank of the river Surinam are many, apparently, never closing the cafes, where walking and just sitting and staring a huge medley of white youth in shorts.
Prices in the cafes and restaurants are quite acceptable. Together to sit in the restaurant (in Russian), it is quite possible for 50US. We accept and in dollars and euros, and in Surinamese dollars. During the course of our visit was 1US three Surinamese dollar.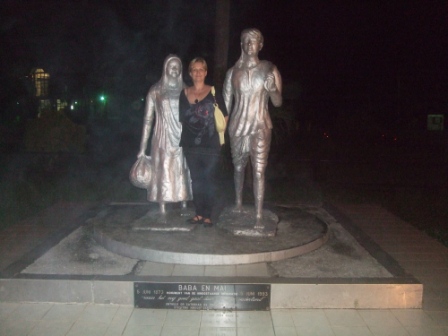 Cook in restaurants varied and very tasty. Food and European and Indonesian and Chinese. Incidentally, the Chinese in Suriname very much and they look gorgeous, they probably live quite well. Half of the shops that we visited are those of the Chinese.
The average salary, we were told, about $ 150 a month. As in Guyana. But on the streets we saw no beggars and panhandlers at all. It seems to work well some social programs.