Guyana - an amazing country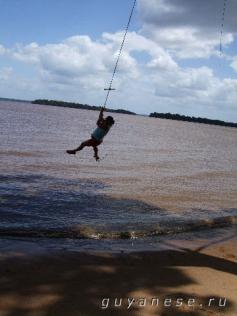 Who does not like to travel? Rather, it is a rhetorical question, because the love of travel and visiting unexplored places laid for many people who are interested not only live in familiar surroundings, but to know yourself in the most unusual and unique places. For example, other countries, which are totally different principles and values ​​that help to realize how lucky person or not lucky to be born, where he was born.
For the countries of Asia and Europe such a place could be South America and, above all, a wonderful country with wonderful name "Gaina". Locals call it that because it is almost "buried" in a variety of water bodies and green virgin stands, untouched by human hand. Tourism on the outskirts of this country can bring a lot of pleasant experiences, unforgettable emotions and brightest memories. Imagine a place on earth which can be regarded as one huge water park, but of natural origin. Everywhere the sun shining clean clear lakes, from different sides heard a whisper inexorably rushing rivers and the most unique that we can add to this fountain - it falls. They abound in this country by its diversity, and high, and not very high, there are wide with noisy streams, there are small and playful, and there are like water wall at the supermarket.
The ratio of tourists to the local people especially, it can be compared with this, as in Romania. Surprisingly, these friendly and always smiling dark-skinned masters of this fertile land is really willing to show visitors how happy they are that are born and live in this paradise. Thus, the locals try to show the savanna and wild animals that seem to European tourists quite dangerous and risky. Therefore, they often choose the opportunities that are not associated with exposure to wildlife, but something more familiar, such as historic sights and major attractions of the country, created by man.