Completion of travel. Fort Island.
On his return to Bartik's wife fed us lunch Balkarrana rice, gravy dau, salt fish with hot pepper, in general a simple meal of traditional Guyana. After that we changed boats and went towards the wig, as we have agreed with Balkarranom that it will show the main attractions in this area.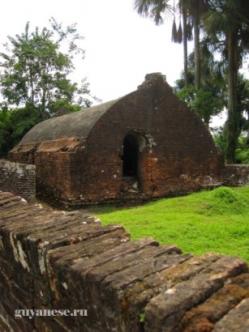 Directly opposite is the island Bartik parrots (Parrot Island) place to congregate at sunset are many different species of parrots, to sleep in the morning and fly apart again. A great option to take a night in Bartik and to see a lot of parrots at a time. At some distance from the island on the right bank Essekeybo is a military base, where training in the military come from the U.S., Canada and the UK.
On the left side on a secluded island located in a luxurious mansion with white columns and tiled red roof, and the bridge crossing at the nearby small island. They say the island became a singer Eddy Grant (Guyana origin) and together with musicians from the Rolling Stones, they're going to equip it to a recording studio.
Further, past abandoned factories balata rubber (factory in the settlement Arako found in the possession of the Americans and functioned until 1961), we went to the extreme point on our way to the island Wigs Fort Island, which remained one of the first buildings in Guyana, the Dutch erected Courthouse Court of Policy and Fort Zeeland. Both buildings were completed in 1744, when the Dutch began to move plantations closer to the coast. In those days, Fort Island was the administrative center of the Dutch colony and outpost Essekeybo West India Company in Guyana. And the fort and the court building is well preserved + in the courthouse is a museum dedicated to the first Dutch settlers in the territory of Guyana.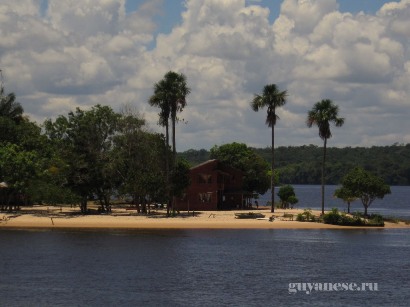 After sightseeing at Fort Island, Balkarran brought me on a boat in a wig, where I quickly got to Georgetown. In this part of the vacation poezdochnaya was completed.
I would like to add that despite the distance from Georgetown to the Guyana Essekeybo are most lodges and resorts. These include the island Baganara, Sheklands, Hurakabra, Saksakalli,