Jamaica. Kingston.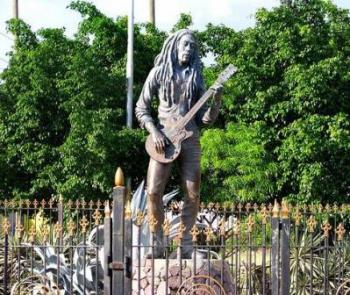 Kingston - Jamaica's capital, one of the most famous cities in the Caribbean archipelago.
Kingston is the center of the food and clothing, and more widely - known music, reggae. Every year in this city attracts thousands of tourists from all over the world. Tourists come here to have a good rest: visit discos, the Jamaican sun, and enjoy traditional local cuisine. Tourism in the country is thriving very well. It has everything you need for a rest, and everyone who came here the tourist can choose to your liking hotel or hotel to settle on time here. Walking through the streets of Kingston, you can see that they are filled with different shops, shopping centers, entertainment venues and restaurants. And those who want to learn the history and go back a few centuries ago, it is possible to visit the museum where there is a lot to look at the historical sites and walk through the park painting. Here live people of different nationalities, the official language of the city is considered to be - English. Road interchange is very well developed flights, buses, taxis and car rental all offers. See the sights of Kingston will offer for the public.
City surprised the visitors many different attractions. The most striking is the list attractions - Devon House, the so-called house of the first black millionaire Jamaica - George Stiebla.
Great attention and popular museums and a lot of them here. Museum known reggae musician Bob Marley, and it is his home, where he lived, is almost never without visitors. Also, visit the National Gallery, the National Museum of crafts, the governor's residence now called the Royal House.
The city will not be bored and lovers of flora and fauna, before their eyes appear a lot of different botanical and zoological gardens. Find the best travel option in Kingston to help you travel agency Dali.
All the time spent in the city, tourists will be remembered for a lifetime. In fact, each had been in this city a man dreams of a second visit.