Tunisia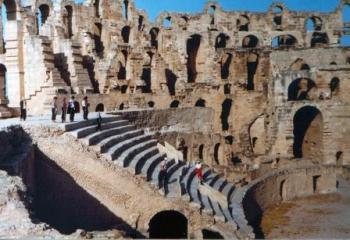 The small Arab state, which has spread in North Africa. There is always hot summers and cool rainy winters.
About 9 million people live in this country. Sfax, Tunisia - Tunisia's largest city, which in the ground and try to move the residents of small villages and youth. It is also worth noting the coast, where tourism is at the expense of good opportunities to earn extra money.
They talk in this country mostly in Arabic, but residents who work in the tourism sector in Tunisia is also nice to know English, German and French.
Kitchen, that's the most special in Tunisia, it simply can not be compared with any other. This exquisite taste of Tunisian dishes will really appreciate the true gourmets and lovers of delicious food. Especially worth a try dishes such as: Tbiha, Tazhimn, Shakshuk and mesh. Pink and red wine, Tunisian beer, juices, they will not leave anyone indifferent.
In this country, there are 3 types of taxis: regular yellow taxi, taxi "luazh" and taxis "Grand". The usual yellow cab is the most convenient transport in Tunisia, payment is made on the meter that comes out, we suck is not expensive. Taxi "grand", the most expensive form of taxis, almost 2 times more expensive than usual. "Luazh", a special shuttle bus, the cheapest of all, but they are mostly just locals who know the city.
The beach, with the blue sea and white sand melenkimi, that's why most of the tourists coming here. Beach holidays there, is very popular.
You can stay in Tunisia, as in a simple budget hotel, as well as an expensive and luxurious hotel. Especially popular among tourists are the 4 * and 5 * hotels, a night in a 5 * hotel worth 600-800 dollars per week.
Tunisia is the most secure of the African countries, the crime rate is very low. The people of this country are very friendly and hospitable. Women in Tunisia will never allow themselves to open orders, and most married women wear the veil and go somewhere just to support their men.
Do not forget to observe in this country are certain rules to avoid problems. You should not take pictures of local women, military installations and police. Walk in open dresses can only be in a tourist area. Drinking age only in specially designated areas. Going on a trip, a walk, the beach or other public place, do not bring a lot of money and valuables, they can be left in a special safe in the hotel. Also, do not ask anyone to look after your things, so look out for them as it is unlikely.
Follow all the rules, and a wonderful holiday you just provided.