Alushta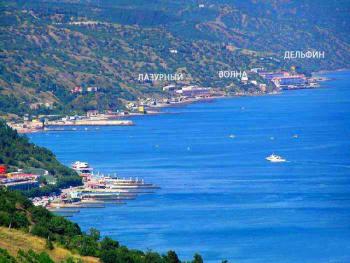 Alushta - a resort town in Ukraine, located on the Crimean peninsula. Well, if you've always wanted to go abroad, it is a good opportunity to combine a trip abroad with a wonderful holiday in one of the most popular resorts in the Crimea. It should be remembered that the hryvnia currency of the Crimea. The Russian currency - this is about 4 rubles. Problems with exchange rates in Alushta no. For those who prefer to save - it is most advantageous to change money at the center of Simferopol (if you turned on - the way) or / Railway station and airport.
   This city has a mild climate. In winter the temperature is a maximum of 3 degrees and the average summer temperature 23.5. In July, the Black Sea water is heated to 26 degrees. This is the hottest month. The beaches are littered with pebbles, which is very convenient for those who seek a compromise between the sand and stones. In addition, beaches in Alushta is considered one of the best in the Crimean peninsula. In the bathing season there are few storms. All these conditions are perfect for families with children.
   If you feel the need to freshen up, and at the same time to see the most powerful waterfall in the Crimean peninsula, you can visit the village Generalskoye 25 km from Alushta. On its territory and is the 15-meter waterfall. In general, the village Generalskoye different wonderful natural sights, even though that is not located on the beach, and at the foot of the mountain. This small but charming place attracts a large number of tourists every year.
   The village is known Dahlin Radiant Alignment, located on the slopes of Mount Dmerdzhi. Not far from the debris flow is one of the main attractions of Alushta - the ruins of the fortifications Funy.
   A useful tour will visit the beech and pine forests of the Crimean Nature Reserve - a favorite hunting ground of kings and high officials in the USSR. For lovers of religion and Christianity, you can visit the Monastery of Cosmas and Damian.
   Alushta is rich in its opportunities for recreation in addition to guided tours. This equestrian tourism and automobile, boat trips, dolphin Partenit, water rides and different tasting. It is often performed music festivals, where you can meet pop stars.
   Come in and enjoy the Alushta feature of the Crimean vacation.