Holiday in Anapa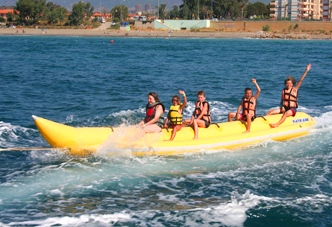 Anapa is known to most tourists as a resort for the rest of the children and adults at sea. For these purposes, there is everything: the cleanest sea in the entire Black Sea, 40 km of sandy beaches, four types of mineral water for use in medicine and just for table drinking.
You can get in Anapa on the plane or train to Novorossiysk and then by road to Anapa. Can also be reached by sea from any city on the Black Sea in Russia.
If a tourist is never visited Anapa, this is a great option for annual leave in the summer. If you do not want to stay in the resort, it is possible to organize a trip yourself and stay with local people who provide special places to stay. All the information can be easily found on the Internet.
Hotels in Anapa very expensive. So, if you want to save money on accommodation, it is better to live in the private sector. Of course, the level of service is lower, but much cheaper and with a soul. And you come to your own transport, it can be left in the camping, their Anapa there are about 30.
In Anapa no private beaches, as they all belong to the city, but are leased to various LLC. Over the entrance there is no need to pay, but you will need to pay for additional services, such as deck chairs, umbrellas and more. On the beach you can be just 15 walk from anywhere in town.
Also in Anapa is what to do apart from swimming and sunbathing. In the city of a large number of museums and leisure centers. Most interesting is the National History Museum and the "Gorgippia", which is located at the site of the ancient city. Those interested tourists can visit the oldest Orthodox church in the Kuban.
Besides all worth visiting center of popular culture, called "Homeland." Here opens the holiday season and celebrate all the holidays of the city. Also, services travelers are several movie theaters, water parks, theaters, parks, as well as bowling clubs.
In Anapa continue to create all necessary conditions for outdoor activities, you can scuba dive or go surfing or yacht.
The only lack of rest in Anapa - high prices for everything from accommodation to food and entertainment. A fruit stand almost the same number as in the northern cities.