French Guiana - the tiny country in South America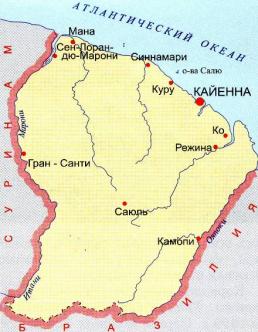 The history of the country explored rather superficially. However, we can confidently state that the tribes of the Arawaks and the Caribs, settled in this land, were able to form a strong tribal conglomeration, which covers the Lesser Antilles. It has developed its own culture and complex social hierarchy.
The smallest country located in South America, is considered to be in French Guiana. The population in this country is only about 220,000 people. Housed at the equator, is in contact with Brazil to the east and south sides, and on the west side is bordered by Suriname. The inhabitants of French Guiana have access to a significant size to the Atlantic Ocean.
To date, French Guiana is managed by the representative of France is its overseas departments. City Cayenne fulfills important administrative center of French Guiana, where is the French representative. Naturally, the official language here is French. In the stands as the official currency the euro.
Only about one-tenth of the whole country is exempt from the equatorial forest. But so does the forest unattractive for settlement. So, it stretches from the coastal strip and to direct border with Brazil - the Cuff-Cuff - rock beds. Mangrove swamps can be found on the coast, occasionally revealing a small sandy beach, containing a bright yellow and sometimes white sand.
The best time for everyone to visit French Guiana - is the period from July to December. It was then that drops the least amount of precipitation. However, those ladies who love the nice warm rain and the air temperature, which does not here falls below 25 degrees Celsius, will be able to get the real pleasure of this tropical shower!
Unfortunately, this wealth, as numerous monuments, historical and cultural heritage, French Guiana can not boast. Indeed, since time immemorial colonialism in this country are often ostracized by criminals. To explore the colonial history of the local population, be sure to go to the Museum Deparmental.
Cayenne, the capital of Guiana, provided a chic tropical vegetation. Even despite the fact that the Cayenne - is an important port in the country, this city is very charming due to its mild tropical appearance. Plaza de Palmistes is deservedly the most crowded part of the capital.
Particularly interesting is the possessive and the small town of Kourou area. And it became known through built spaceport here. Due to the annual rocket launch "Arian" in Kourou gather thousands of tourists.