Holidays in Russia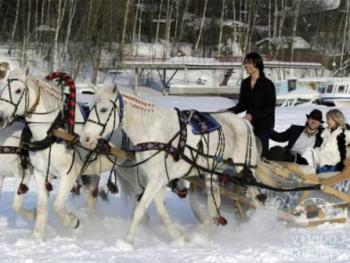 You always want something unusual. And if we talk about the rest and even more so. With each passing day it becomes more and more people are ready to view extreme relaxation, this is an adventure, and a sea of ​​bright emotions. Why not go to the North or South Pole, to conquer Mount Everest, or something like that.
Russia ready to offer more to its residents and tourists. Here you can find an incredible adventure for the entire year, regardless of age and desires. This huge country is ready to accept all, and to suggest anything. Here and longest rivers, large reserves, virgin forests, and hozhenye areas. The whole valley of geysers, a nice black sea air and the highest mountains in Europe. The highest mountain - Elbrus. Its height is about 5642 meters. You can try rafting or skiing, hunting or fishing, ride a snowmobile, or go on a safari jeep. Here and paragliders and racing reindeer, horse riding, a bit of diving and helicopter hiking, mountaineering, and only a true diva of nature. It is necessary to cook food over a fire, get acquainted with the wildlife, evaporate in the bath, and then dive into a pile of snow, or in the hole. This is truly an unforgettable experience. Once again perceive the new Russia, it seems that its borders are immense, but all that happens here, forever engraved in the memory. I would like to present, most tasted places in Russia.
A. Lake Baikal - the most famous place in Russia, but it is also known worldwide as the deepest and purest lake. This is truly a pearl of Siberia, as it is called. In addition, Lake Baikal is the oldest lake, he was about 25 million years. However, the lake attracts not only for its uniqueness. Here rest those who want to spend an unforgettable time in the bosom of this Siberian landscape. Lake Baikal is the hot springs, sightseeing by helicopter, especially in remote areas, off-road riding, fishing, rafting, scuba diving, and a lot of nice things for a good time.
Two. Kamchatka. Particularly remote area of ​​Russia. About her little knowledge of Russians, not to mention the rest of the world. Today, when we can overcome the space of a few hours in the air, Kamchatka has become more available to Europe and the world. Here is the second largest concentration of geysers, only in Eurasia. They are located on the territory of six miles, in the amount of ninety geysers and many hot springs. There is a river Geyser, which receives water from a geothermal Kikhpinych - a young volcano. He is a member of the Kronotsky Nature Reserve and is listed as World Heritage.
Three. The Caucasus - a mountainous country in southern Russia. Here is the main Caucasian ridge. It is, in fact, the main boundary between Europe and Asia. Its southern slopes down to the Black Sea coast. The nature of the Caucasus is simply breathtaking. Thousands of tourists come to the Caucasus to bright emotions, a breath of fresh air, admire nature, backpacking or just go in for skiing.