Holidays in Russia. Extension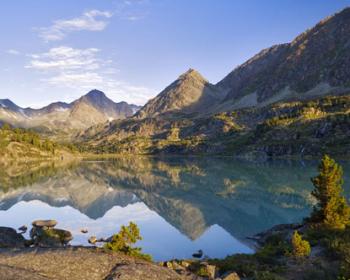 Chukotka - the most remote place in Russia and Eurasia, located in the eastern part and is washed by the Arctic and Pacific oceans. Most of the territory belongs to the Arctic. Most of the territory of Chukotka - a Tundra. But please coastal scenic bays with marine birds and mammals. They live here, local Chukchi, Eskimos and other nationalities. All of them are employed in the majority of reindeer herding and hunting of marine life. This remote regions of Russia, which limits its communication with the outside world. To enter the territory of Chukotka special permit is required. Chukotka visit the small number of people, but maybe that's why there remain unique landscapes, flora and fauna.
Yakutia - also referred to as the Republic of Sakha, and is located in the northeastern part of Siberia. This is a land of many rivers and lakes, glaciers. In the Northern Hemisphere the North Pole is located in Yakutia. In the summer time polar days and in winter - the polar night. Only in these latitudes, one can see a unique phenomenon - the aurora borealis. Day there may be about twenty hours a day. It is ideal for travel in the reindeer, and also have the opportunity to learn about the exotic life of these nomads of Siberia.
Karelia - a wonderful region, where the midnight sun, and which is called the "midnight sun". It has everything you need for a good holiday. As if nature itself took care of the presence of rivers, lakes and forests. You can take a trip, visiting historical monuments, deserted villages, and improvised bridges and fortifications, which were built during World War II.
Urals. The boundary between the northern part of Asia and Eurasia. Everything here is arranged for the lovers in the air, for outdoor activities. For those who like the smell of fire and morning fog, forest and mountains. Hiking designed for the most beautiful and attractive places of the Urals. After traveling here, you can not forget the beauty of the mountain lakes and meadows, picturesque rocks, smell the pine and mixed taiga, to see the mountain rivers and streams. Important in the local archaeological finds in Arkaim. Presumably this is the first place where the horse is tamed, invented a two-wheeled cart, and lived one of the most ancient civilizations.
Primorye - Outskirts of Russia, washed by the waters of the Sea of ​​Japan. Under special climatic conditions created due to its location and the Pacific. The territory covered by mountains Sikhote-Alin mountains, covered with virgin taiga. This Taiga has a most unusual and the richest temperate forests, as well as representatives of a rare animal: the Amur tiger, Himalayan black bear, brown bear and lynx. But the coast is interesting for tourists exotic bays with unique scenery, uninhabited islands. With rich water world.
In general, do not love Mother Russia is impossible. It is endowed with such wealth and beauty that it is necessary only to cherish and admire it!