A guided tour to the Far East of Russia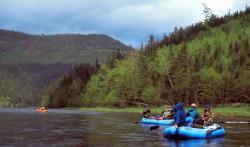 One of the most beautiful places is the territory of the Russian Far East - Primorsky and Khabarovsk Krai . Unusual sharply continental climate . Extremely frosty winter , and hot summers . Summer cold and misty morning , breathes freshness, but closer to noon and the sun begins to bake temperature rises rapidly . Summer evening warm and serene. Clouds in the Far East almost none. Blue sky clean and high . Occasionally there are clouds or clouds with rain showers , but then again, clear skies and sunshine . Always frosty winter . Thaws are rare. Freezing established in late October , snow falls and melts more before the end of March. In February, the cold winds blow strong . But just as in the summer in the sky no clouds, and the sun on a bright blue sky. It gives no incomparable sense of inner freedom and space .
Unusual flora . On the hills , among the rocky and sandy - clay soil grow dwarf whimsical trees - oak, birch, pine , etc. In the most humid and fertile areas - taiga forests . Crown of such forests resemble crown African savannah . Most areas waterlogged . And when you go by car , the ground beneath it as it moves. Summer myriad insects. In the evening you can meet clouds ladybugs with different color. Meets locust -sized adult mouse. Of mammals is remarkable Amur tiger habitat . But fails to meet its not for everyone. It is very rare , endangered species of mammal . The Amur tiger is listed as endangered and protected by law. Many different birds. Often there are pheasants . Between the hills flowing small streams , creating a picturesque landscape of the valley .
Far East coast bordering the Pacific Ocean - it is almost continuous zone of a beach holiday Primorsky and Khabarovsk Krai , with beautiful scenery and euphonious names of bays and inlets . Even in calm weather waves of the ocean is very large, that does not prevent a swim in the ocean. The water is very warm and soft , and it does not drown because of the high density of water - in the presence of a small percentage of salt.
In general, Far East Russia - a vast territory from the latitudes of the Arctic Ocean to the Chinese border , and from Kamchatka to Yakutia. Where his every region has its own unique characteristics that can not be found anywhere else in the world.
If you book a trip in advance, then you can manage to see a lot of amazing places in a short time . Anyone who has visited the Far East preserves memories for a lifetime .