Going to Azerbaijan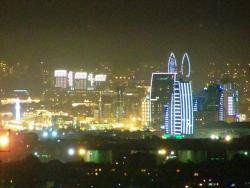 Why go to the city and country of old Europe ? Get pleasure from traveling to Azerbaijan will not be less than Europe. Trip to Azerbaijan can be done without difficulty. Townspeople friendly, hospitable , bazaars bursting with abundance of fruits and vegetables . Special " brand " of the country grenades - surprise you abundance of varieties, there are about 100 . For tourists to neighboring countries , are also interesting , as the country's future. Visiting Azerbaijan , you can change your view of the Transcaucasus. In Baku, a lot of architectural solutions. The Two Towers - Flame Toxers - changed the face of the capital. This is a new symbol of the city , the tower can be seen from all points of the city. Harmony and style of architecture is present everywhere . For example, the Caspian Sea coast. The road leading to the Apsheron Peninsula , ideal. Several kilometers no transition. State Flag Square with a concert hall . Here passed Eurovision - 2012 . Tour around the city to help the London cabs . Taxi fair , charge only on the counter .
Weekend and evening hours from Baku to the streets . Baku Boulevard attracts lovers of oriental flavor to plunge into the western corner of Venice . Ride a gondola painted along the boulevard , walk under the bridge the gap . Baku Boulevard is filled with people and buzzing like a beehive . Illumination gorgeous, friendly and laid back setting . The city has many cafes and restaurants. But alcohol is not held in high esteem . Preference is given to tea. Tea plantations are located in Lankaran area with mild subtropical climate. Good tea can be purchased for 150 euros per kilogram . A characteristic feature of the city is a strict trade store locations . In one street, selling appliances, on the other clothes.
Country living due to oil . The cost of gasoline is not changed in five years . Most of the oil belongs to the state . Within a few years the capital of petrodollars greatly transformed . Rate in Azerbaijan do on tourism. The best beaches , infrastructure , buildings restored Soviet times , tourists are all like that. The reserve is preserved in the original Gobustan rock art , wells, collecting sacrificial blood , stone drum. In the restaurant kitchen is gorgeous. Pita bread and fragrant lula - kebab, tarragon, barbecue sauce and hand grenades - narsharab . And you will conquer the eastern sweets .
One manat equals one euro.